Covid-19 Increases Digital Divide for Seniors; by Richard Adler and Susan Nash
August 17th, 2020
COVID-19's forced closure of schools quickly led to a recognition that students without internet access are not able to keep up; school districts and local governments acted to help them. But what about the problem at the other end of the age spectrum?
Sheltering in place is tough on everyone, but imagine doing it as a 75-year-old who lives alone and does not have internet access. All of your usual community resources – senior and community centers, adult day care centers, libraries, social services agencies, senior nutrition sites, churches – have closed. Retirement communities and nursing homes have restricted visitors and suspended shared meals and social activities. For many elders, sheltering in place means that they are effectively shut off from the rest of the world. 
Throughout this pandemic, closing the digital divide for older adults is no longer a luxury.  Since COVID-19 is most dangerous for seniors, they are most likely to remain isolated the longest – and are also the group least likely to have an online connection.  
Research has shown that older adults consistently lag behind younger people in their use of digital technology. According to the Pew Research Center, internet usage is nearly universal for those under 50, while nearly 90 percent of those between 50 and 64 are online. However, only 73 percent of Americans age 65+ are internet users.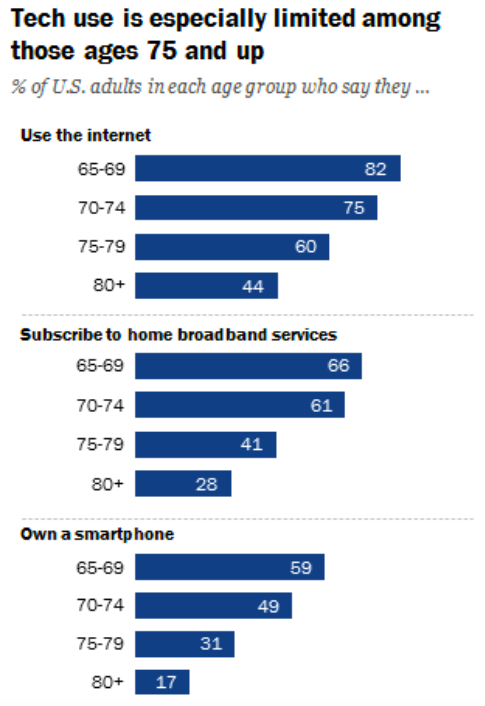 The disparity in tech adoption is even greater among those over 65. While 82 percent of those ages 65 to 69 use the internet, the percentage declines to 44 percent for those ages 80 and over. Two-thirds of adults ages 65 to 69 subscribe to home broadband, compared to just 28 percent of those over 80. In addition, while the majority of people ages 65 to 69 own smartphones, only 17 percent of those over 80 have these devices. 
Although organizations that serve seniors are attempting to stay connected with their clients, virtual programs are only available to those who are online. Providers estimate that they are reaching less than half of those they previously served.
Around the country, several projects are working to provide connectivity for isolated seniors. With the sponsorship of Mayor Bill de Blasio, New York City has provided 10,000 older residents of public housing who live alone with an access device, along with a free internet connection and training. Georgia's Division of Aging Services has received CARES Act funding to provide internet connections, access devices and training to its older population. In San Francisco, a similar effort is underway, implemented by the Community Tech Network.
On June 23, 2020, the Santa Clara County Board of Supervisors voted unanimously to direct the County's Department of Aging and Adult Services to partner with Age-Friendly Silicon Valley and others to develop a plan to help older adults who need online access. This small, first step is an opportunity for Silicon Valley and its tech companies, Internet service providers, and nonprofits to provide older adults with a lifeline. 
That lifeline is critical, as this problem will not go away even after older adults can safely go back outside. For the first time in history, the number of people globally over 65 exceeds those under five years old. This is a trend that will continue. The 17 percent of the County's population aged 60 or over will increase to 26.3 percent over the next decade. In fact, those over age 60 are the only age group that will increase substantially in the near future.  
With or without a pandemic, digital inclusion for people of all ages is something that Silicon Valley, of all places, should be able to make happen.
Richard Adler is a member of the Santa Clara County Senior Care Commission and Chair of Age-Friendly Cupertino. Susan Nash is a Visiting Scholar at the Stanford Center on Longevity and an Encore Fellow with Age-Friendly San Jose. The views expressed here are their own.
Never miss a beat. Get Age Friendly
Email updates in your inbox.
Subscribe Here