Senior Safari Walkabout at Happy Hollow Park-Heather Lerner
December 11th, 2017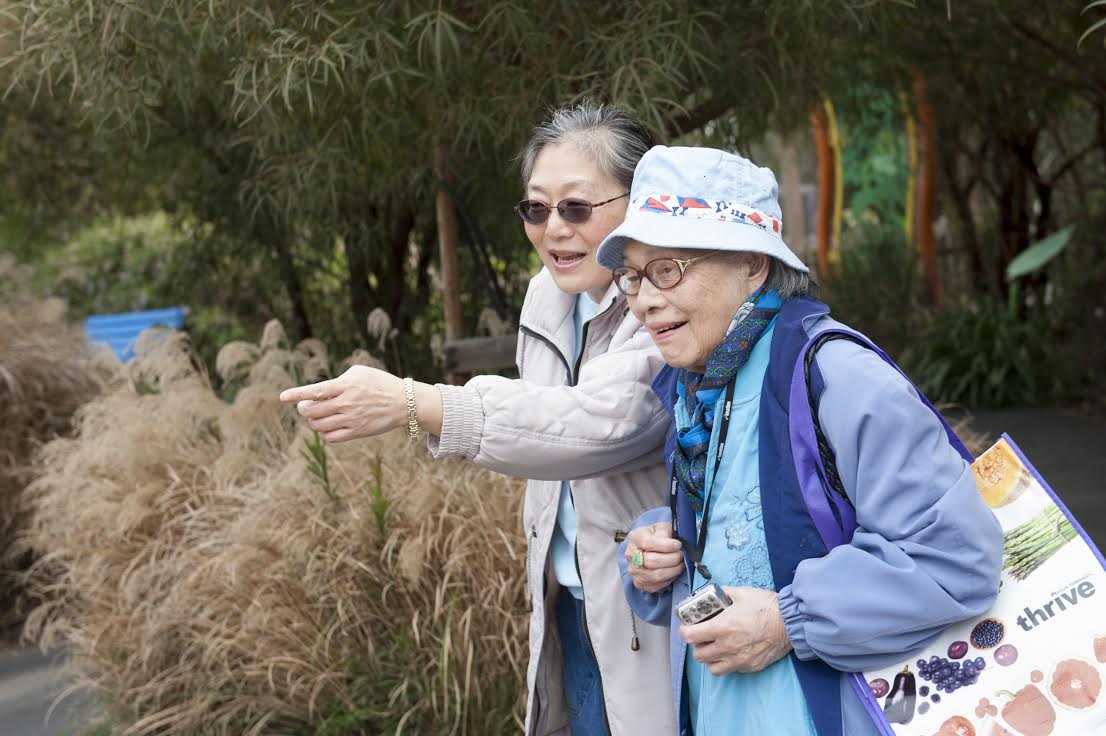 For the past several years I've spent my work days at a vintage amusement park and accredited zoo, watching families play and learn together in a beautiful outdoor setting.  In community meetings, clubs and boards, people who learned that I was involved with Happy Hollow Park and Zoo, would invariably remark, "Oh I LOVE Happy Hollow!  I can't go any more because I don't have small children in my life".  That was the start of thinking that there had to be a way to bring the generation that started Happy Hollow, which opened in 1961 to a ribbon cutting by Jerry "The Beaver" Mathers, from the hit sitcom, Leave it to Beaver, back to a place they already knew and loved.  
It seemed that the number one barrier was being childless in a kid-centric environment.  I'd had success with a night time event that gave the 21 and up crowd the feeling of sneaking into the park after dark.  I was thrilled to see how they used the space once it was modified with enhancements to appeal to the gala set.  It got me thinking, we could do a daytime version of this.  We just needed to give the space over fully to the older adults, with a few enhancements that would be appealing for different reasons— for one, obviously the night time bar would need to be replaced with fresh smoothie samples (park management would never let me get away with Bloody Marys).  I knew we shouldn't be focused on all the negatives of getting older, rather center our attention on what we do best; that's play and enchantment. No falls prevention hand-outs,, no stroke awareness brochures or any commercial pitches whatsoever.  I wanted to remind people about the power of play, of how great a brisk walk outside (not in a mall) feels, and as my mom informed me as I was asking her what she thought would make it appealing, "we want ice cream".  Mother, really?  It's breakfast.  Turns out she was right.  A break in the rules can be as invigorating as a slight chill in the morning that warms quickly under blue skies.  
I wanted others to experience what I got to enjoy every work day before opening— watching the animals wake up, the zoo keepers, Puppet Castle Theater and amusement rides staff on their routines getting ready for what I call, the park and zoo show. I knew other zoos had rolled out plans exclusively for seniors and had heard of their successes. Working with park staff on a prototype, with the confidence of outside funders who also believed in the model, we debuted Senior Safari Walkabout mornings.  A time slot exclusively for those 50 and up, a place to walk 10,000 steps, connect with animals, sketch, take photos, and even try hula hooping with the artists on staff.  
Looking at new ways of using existing spaces and programs was the mother of invention that addressed a growing need for social inclusion and outdoor activity for seniors in our area .  The guests led us the rest of the way, with their ideas leading to guided walks, Tai Chi, watercolor painting, line dancing and more. My favorite was the insistence that the rides be open before all those little tripping hazards, er, children, arrived and would take up all the spaces on the Keep Around Carousel, Danny the Dragon and the hands-down crowd favorite, the roller coaster.  Seniors know what they want and need;  we just need to listen and be willing to modify.
Heather Lerner recently finished a successful career leading many new initiatives and renovations as Executive Director of Happy Hollow Foundation.  She is now Director of Development with Boy Scouts of America, Silicon Valley Monterey Bay Council.
 Author
Heather Lerner
Never miss a beat. Get Age Friendly
Email updates in your inbox.
Subscribe Here