Caregiving, Coping and Compassion- Age Friendly SV sponsors series of events for SV Reads 2018
January 31st, 2018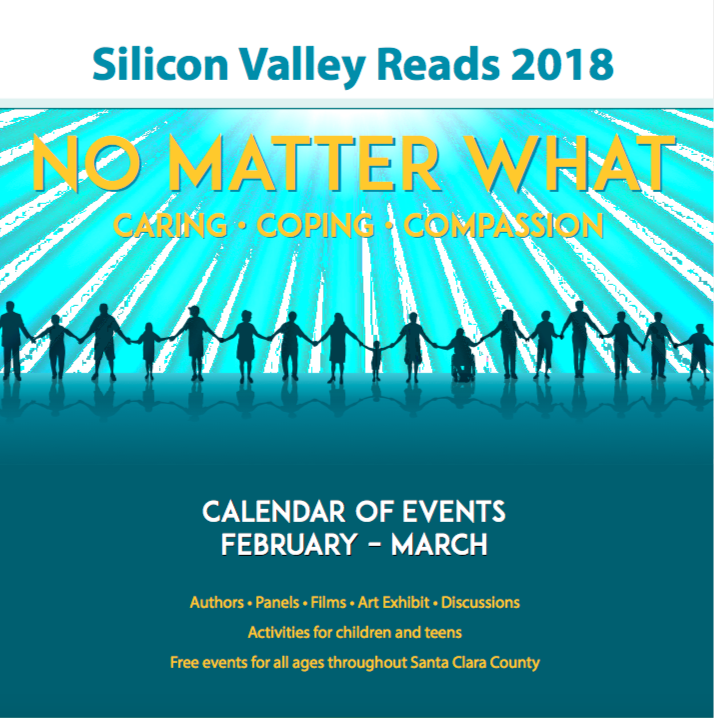 We are thrilled to announce that we will be participating in this year's, Silicon Valley Reads by offering an array of events centered on this year's contemporary theme, No Matter What: Caring, Coping, and Compassion.
Silicon Valley Reads is an annual program which selects books that focus on a contemporary theme and encourages the community to read, think and discuss together. SV Reads offers a variety free events to the public throughout Santa Clara County from February 1st to March 31st, which range from author lead discussions to panel talks, all centered on the theme of compassion and caring.
The two books that were chosen to accompany this year's theme are Goodbye Vitamin, by Rachel Khong and My Lovely Wife in the Psych Ward, by Mark Lukach. Each of these stories focuses on two families that found a renewed love for each other when they were thrust into caregiving positions.
The Seniors' Agenda of Santa Clara County Department of Aging and Adult Services (DAAS) and Kaiser Permanente are proud to sponsor a series of CareMapping workshops at various libraries throughout Santa Clara County. A CareMap is a diagram of one's care ecosystem which shows who is caring for whom along with other important information.  Developed by the nonprofit, Atlas of Caregiving and the Robert Wood Johnson Foundation, the Atlas of Caregiving team has taught CareMapping workshops all over the world.
Along with the CareMapping workshops, DAAS and Kaiser Permanente are honored to sponsor a panel discussion on March 8th at The Tech Museum of Innovation in San Jose. The discussion will focus on the topic of, Using Technology, Innovations, and Data to Create A New Future of Caregiving. This panel will feature Rajiv Mehta, the CEO and Founder of the Atlas of Caregiving, Dawn Narus, Anthropologist and Senior Research Scientist at the Intel Corporation,  Gary Wolf, the Co-founder of Quantified Self and a Contributing Editor at Wired and Mark Lukach, the author of one of SV Reads 2018 books, My Lovely Wife in the Psych Ward. The panel discussion will be moderated by Barbara Marsham, the Editorial Page Editor of the Mercury News.
We are excited to be apart of this community event and look forward to the discussions on caregiving, coping and compassion and the new insights that we will learn.
For more information on all of the SV Reads events, click the link below:
CareMapping Workshops: Dates and times
Workshops are limited to 30 participants. Register on the library's events page.
Alum Rock Library — February 12th, 4:30-6:30 pm

Morgan Hill Library — February 13th, 7:00-9:00 pm

Campbell Library — February 22nd, 2:00-4:00 pm

Saratoga Library — March 2nd, 10:30 am-12:30 pm

Gilroy Library — March 5th, 7:00-9:00 pm

Los Altos Library — March 19th, 7:00-9:00 pm
Panel Discussion: Using Technology, Innovations, and Data to Create A New Future of Caregiving
Never miss a beat. Get Age Friendly
Email updates in your inbox.
Subscribe Here