August 28, 2019
Upcoming Event - Seniors' Agenda Network Summit
Seniors' Agenda Network Summit Features
LGBTQ Older Adults Advocate Tripp Mills
Summit takes place August 28 in Campbell, Calif.
San Jose, Calif., August 13, 2019 — How are the needs of LGBTQ older adults being met – and not being met - is the topic of the Seniors' Agenda Network Summit taking place on Wednesday, August 28. The event, hosted by the County of Santa Clara's Department of Aging and Adult Services, is from 1:00 p.m. to 4:00 p.m. and will take place at the Orchard Banquet Hall, Campbell Community Center, 1 W Campbell Ave, Campbell CA, 95008. Register for this free event at http://ow.ly/uI2g30pj8XG.
 A national health study by The National Resource Center on LGBTQ Aging found that "LGBTQ older people widely fear accessing services, with transgender elders especially concerned because of high rates of being denied services or receiving inferior services."*  Tripp Mills, Deputy Director of Senior Services at the Los Angeles LGBTQ Center, is the keynote speaker at the event. His speech titled Beyond Safe Spaces for LGBTQ Older Adults addresses these issues. As part of his responsibilities at the Los Angeles LGBTQ Center he oversees the Triangle Square Apartments, the first affordable housing development for LGBTQ seniors in the nation.
"We are very excited to have the opportunity to hear from Tripp and reflect on his biggest concerns about the limited support for the older LGBTQ community," said Jim Ramoni, Director of the Department of Aging and Adult Services of the County of Santa Clara, "he has done an incredible job leading the charge towards creating more affordable housing for the older LGBTQ adults." Ramoni added that Tripp continues to educate the local communities on how to address the health, social and recreational needs of LGBTQ seniors while also creating a stimulating environment for them.
In addition, there will be a panel comprised of members from the LGBTQ community. The panel includes Maribel Martinez, Director, County of Santa Clara's Office of LGBTQ Affairs; Gabrielle Antolovich, Board President, Billy DeFrank Center; and Julie Bates, Associate State Director, AARP California.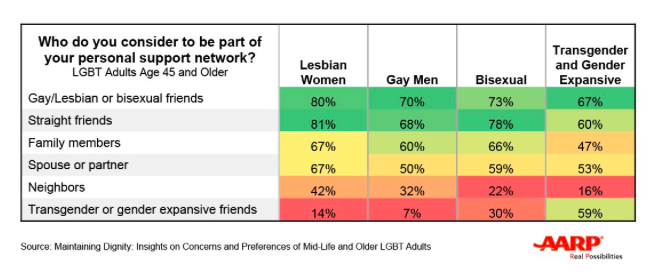 Recent surveys have shown that there is a higher chance of isolation for older members of the LGBTQ community due to a lack of a strong support network. The chart above explains the personal support network for members of the LGBTQ community. For example, 80% of lesbian women say that other gay/lesbian or bisexual friends are in their personal support network. Another AARP survey found that three out of four LGBTQ adults over the age of 45 say they are concerned about having enough support from family and friends as they age. Personal support networks are very important to live a happy and fulfilling life. This summit will highlight changes our community will make so that older LBBTQ adults have a stronger support network.
Twice a year, the Seniors' Agenda Network Summit brings together approximately 200 professional, aging advocates, and elected officials to actively engage in meaningful discussions to strengthen our community for older adults.
Santa Clara County and all of its fifteen cities have achieved their common goal to become recognized by the World Health Organization as Age-Friendly – the first county in the country to do so. Please visit our website at https://www.agefriendlysiliconvalley.org/ and sign up for our newsletter if you want a recap of this event and want more information about future events!
________________________________________________________________
Note: Population graphics are available including one representing increase in aging overall.                                                                                                                         

*

LGBT PROGRAMMING FOR OLDER ADULTS: A PRACTICAL STEP-BY-STEP

GUIDE    *Graphic:

https://www.aarp.org/research/topics/life/info-2018/maintaining-dignity-lgbt.html

                                                                                                                                   

Hashtags for the event are #SeniorsAgenda and #AgeFriendlySV