October 8, 2018
Upcoming Event - Lives Well Lived Film Event and Q&A – San Jose
Age Friendly San Jose Silicon Valley invite you to a free local screening of Lives Well Lived with a special Q&A with filmmaker Sky Bergman!
Monday, October 8th at 5:30pm
3 Below, 288 South 2nd Street in San Jose
This movie celebrates the incredible wit, wisdom and experiences of adults aged 75 to 100 years old. Through their intimate memories and inspiring personal histories encompassing over 3000 years of experience, 40 people share their secrets and insights to living a meaningful life. These men and women open the vault on their journey into old age through family histories, personal triumph and tragedies, loves and losses – seeing the best and worst of humanity along the way.
Their stories will make you laugh, perhaps cry, but mostly inspire you.
Check out the trailer of the film here on Youtube, or copy and paste the link: https://www.youtube.com/watch?v=Ev4d-ZBNBaU
A ticket is required for this FREE event! You can download tickets here, or copy and paste the link: https://www.eventbrite.com/e/lives-well-lived-a-film-event-with-filmmaker-sky-bergman-tickets-49627584441
Diana Miller
Diana.Miller@ssa.sccgov.org
Sky Bergman
skybergman@liveswelllived.org
(805) 215-8684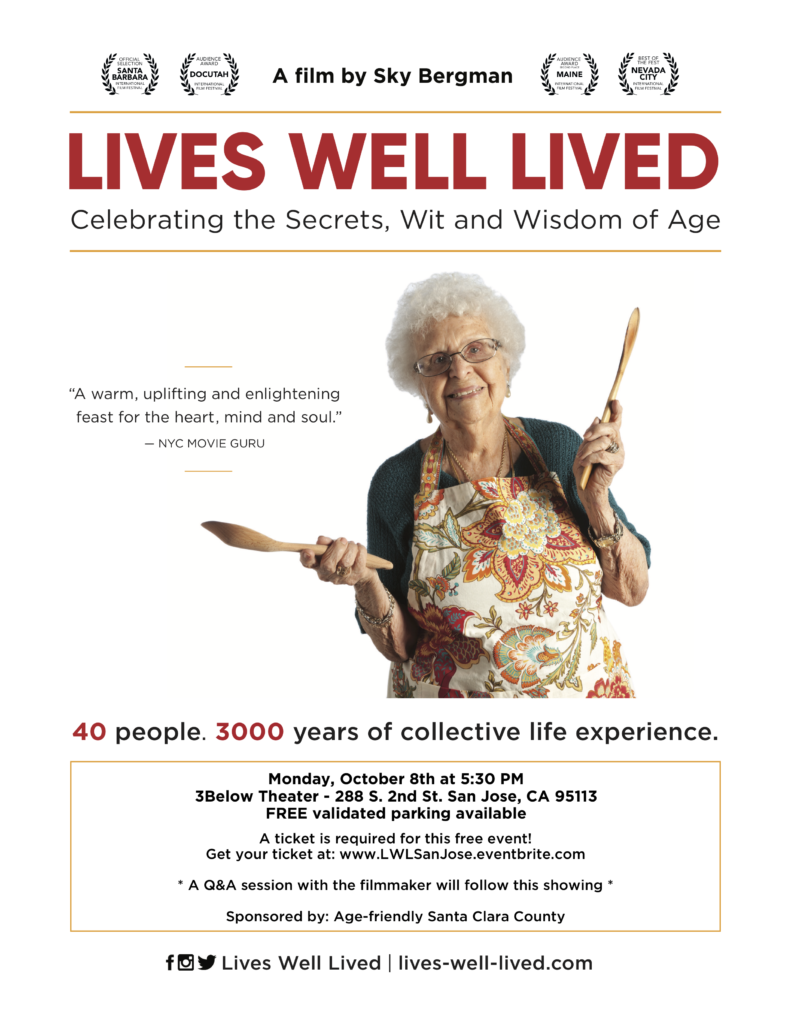 Age Friendly Palo Alto is part of a world wide effort led by the World Health Organization  to help communities consider and implement policies, services and/or initiatives to support older adults as they grow older to live healthy and vibrant lives.